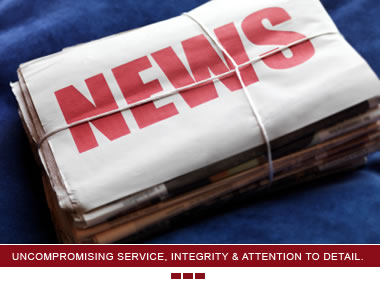 Our Newsletters
Read Our Annual Tax Saving Newsletter
This issue of the Tax Update Newsletter provides a summary of key changes to the tax code for 2008 and offers ideas to help you reduce your taxes.


2007 Tax Year Archive Newsletter
In addition to the preprogrammed changes discussed and charted to the right, three federal tax laws passed in 2006 could result in substantially more tax savings when your 2007 tax return is filed. Here is a summary of some important changes for 2007 that apply to many clients.


NEW! Read our Tax-Aid Brochure
Local Maryland Tax News Headlines
Divided Baltimore County Council approves county's first income tax increase in decades but cuts proposed phone tax Baltimore Sun

A divided Baltimore County Council on Thursday approved a series of bills sought by County Executive Johnny Olszewski Jr. to raise millions in new revenue, ...

Former DC Tax Official Charged With Allegedly Taking Bribes To Erase Tax Debts Owed By Club Owners WAMU 88.5

The former official of D.C.'s tax office allegedly took more than $85000 worth of bribes to erase hundreds of thousands of dollars in tax debts owed by a number ...

Maryland Becomes First State To Provide Health Insurance Enrollment On Tax Forms WAMU 88.5

Gov. Larry Hogan is expected to sign a bill Monday that would allow Marylanders to opt into health insurance by checking a box on their tax forms.

Elijah Cummings denies wife's charity is conflict of interest or tax violation Washington Examiner

Rep. Elijah Cummings denied that corporate donations to his wife's charity posed a conflict of interest with his House Oversight Committee chairmanship and ...

Southern Maryland doesn't have enough people to support rail line SoMdNews.com

I wanted to clarify my opinion piece regarding the light rail in light of Gary V. Hodge's letter in Wednesday's Maryland Independent attempting to dismiss my ...