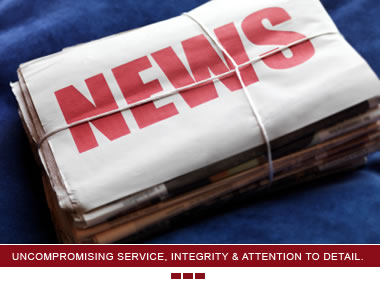 Our Newsletters
Read Our Annual Tax Saving Newsletter
This issue of the Tax Update Newsletter provides a summary of key changes to the tax code for 2008 and offers ideas to help you reduce your taxes.


2007 Tax Year Archive Newsletter
In addition to the preprogrammed changes discussed and charted to the right, three federal tax laws passed in 2006 could result in substantially more tax savings when your 2007 tax return is filed. Here is a summary of some important changes for 2007 that apply to many clients.


NEW! Read our Tax-Aid Brochure
Local Maryland Tax News Headlines
Md. Department of Commerce audit 'a wake-up call' to reform tax credit programs, some lawmakers say Baltimore Business Journal

Democratic lawmakers in the General Assembly are eyeing reforms of business tax credits in light of a recent audit that found the Maryland Department of ...

Staples' Nexus In Md. Sufficient For Corp. Tax, High Court Told Law360

Maryland's apportionment of Staples' income that resulted in over $14 million in Maryland corporate taxes is justified and the company has sufficient nexus for ...

Frank DeFilippo: Hogan Down Under and the Low-Down on P3's Josh Kurtz

Transportation issues are rarely about getting from here to there. Usually they involve what land will be developed and who's going to get rich. Add to the ...

Md. Revenue Estimates board updates tax projections | State The Star Democrat

ANNAPOLIS — The Maryland Board of Revenue Estimates voted unanimously Thursday, Sept. 19, to increase the state's projected revenues for the current ...

Md. reminds low-income homeowners, renters about tax credits MyEasternShoreMD

BALTIMORE — The Maryland State Department of Assessments and Taxation has developed an online tax credit application system now available to the public.